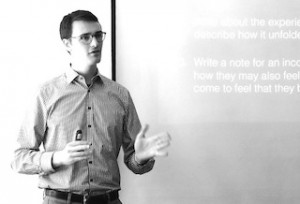 Email: kizilcec@cornell.edu
Phone: +1 (607) 255-8327

Office: 208 Gates Hall, Ithaca, NY 14853
Office Hours: By appointment.
René Kizilcec is a computational social scientist of education and an Assistant Professor of Information Science at Cornell University. He is affiliated with Arizona State University's School of Computing, Informatics, and Decision Systems Engineering as an Assistant Research Professor. He has a PhD in Communication and MSc in Statistics from Stanford University, and a BA in Philosophy and Economics from University College London.
His research is on social and cultural psychological factors in interactive technologies, for example, how psychological barriers hinder the academic achievement of online learners, how effective self-regulation strategies vary across cultures, and how peer influence spreads in social networks. He is particularly interested in the psychological challenges to realizing the potential of digital environments for diverse and global audiences. His research has been published in leading journals such as Science, Proceedings of the National Academy of Sciences (PNAS), Journal of Educational Psychology, Computers in Human Behavior, Computers & Education, and in the proceedings of leading human-computer interaction and education conferences such as ACM SIGCHI, Learning at Scale, and Learning Analytics & Knowledge. This research was awarded ACM Best Paper Awards, a Computational Social Science Fellowship, a Stanford Interdisciplinary Graduate Fellowship, a Stanford Faculty Seed Grant for Innovation in Research, and the Nathan Maccoby Outstanding Dissertation Award.
René's research has examined the consequences of social identity threat, self-regulation, trust, and cultural differences using longitudinal field experiments. Recently, he has investigated how to (1) close the online global achievement gap between members of more and less developed countries in online courses, (2) support goal pursuit across cultural contexts with self-regulation strategies, and (3) enhance the online learning experience by strategically placing social cues in videos. He leverages techniques from data mining, machine learning, and natural language processing to examine behavior and motivation, reveal heterogeneous treatment effects, and inform user-centered design. René has also worked with Facebook to conduct research on social influence in sharing behavior on social media.
You can follow him on Twitter @whynotyet.
Selected Press
On Self-regulation and Culture: Xinhua News, The Australian, Stanford News.
On AI Transparency: Harvard Business Review, SiriusXM Business Radio by The Wharton School.
On Closing Global Achievement Gaps with Psychological Interventions: PBS Rewire, Inside Higher Ed, EdSurge News, The Australian, Engadget, Science Daily, Futurity, MIT News, Stanford News.
On Learning Analytics in MOOCs: BBC, ACM Tech News, MOOC News and Reviews, Stanford News.